I've been putting together a basic website to promote Workbench Alpha, the makerspace we're looking to set up for East London. Currently running just Doku Wiki and SMF, it's more than my shared hosting can handle on top of my other sites.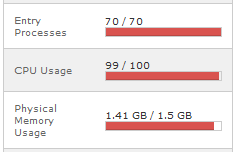 This is making it difficult to fully populate the site with info, and I suspect will make using it for promotion unlikely.
I'm onto tech support to check into temporary fixes, but I think this is going to need some dedicated hosting sooner than later. Recommendations for something affordable would be gratefully received. Having running costs before getting running wasn't something we wanted.